Competencies in the AI era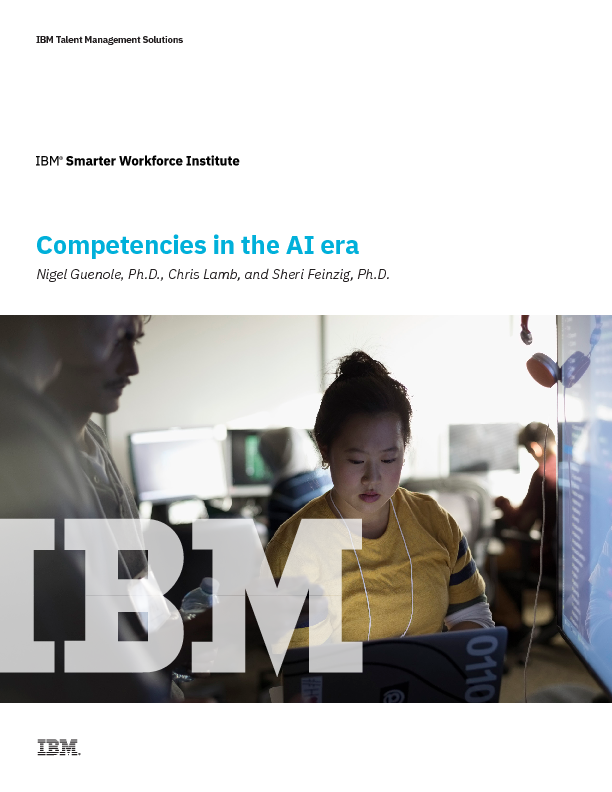 Client: IBM Schweiz
Format: Whitepaper
Size: 529 KB
Language: English
Date: 05.10.2018
Description
One of the hottest topics in human resources (HR) today is artificial intelligence (AI). AI can be applied to augment practitioner approaches to completing common HR tasks. It works like most objective analytical minds would, but at a scale and speed that humans alone cannot match.
This technology has arrived at the right time. The scale and time pressures involved in effectively meeting HR tasks in even moderate sized organizations are practically insurmountable without artificial intelligence. If you're a Chief Human Resources Office (CHRO) or HR leader wanting to prepare your business to leverage AI, there is one essential activity you need to undertake now: audit the quality of your organization's competency frameworks.
Competencies are taxonomies of knowledge, skills, abilities, and other attributes (KSAOs) required for the successful performance of jobs in your organization, both now and in the future. KSAOs can include requirements of the worker (such as knowledge, skills, education, and experiences), as well as personal characteristics of the worker (such as cognitive abilities, traits, and interests).
Once you assess the quality of your competencies, you should quickly address any shortcomings you discover. Let's consider why auditing your competencies is a top priority.