The Employee Experience Index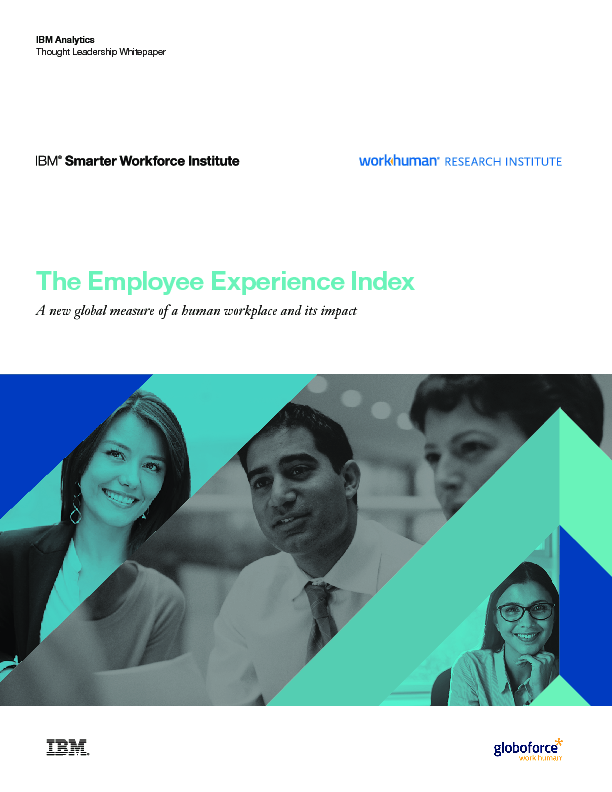 Client: IBM Schweiz
Format: Whitepaper
Size: 3.26 MB
Language: English
Date: 05.10.2018
Description
We are in the midst of a major transformation in the workplace. In the industrial era, the focus was on task-oriented laborers whose primary output came from their hands. In the information age, knowledge embodied in employees became a central component of the economy.

Now we are entering the cognitive era. In this new era, in which machines are able to learn, reason and interact with humans naturally, the boundaries between people and technology become blurred.
Rather than diminishing the role of people, in the cognitive era people are at the forefront of working with and realizing the benefits from new technologies to achieve more than was ever possible before. In fact, the cognitive era is just as much the human era. It is a time when work can be a more rewarding experience for employees.
Recognizing that "the battle for the hearts and minds of employees is played out daily through their workplace experiences," organizations are now reexamining their employees' experience at work as a path to improved job performance and sustained competitive advantage.
So what is the ideal employee experience at work? The IBM Smarter Workforce Institute and Globoforce's WorkHuman Research Institute joined forces to conduct a major, global research study to find out.